The painful confession of a mama who thought all of this would be easier somehow

There I stood, in my daughter's room, watching her sleep (at last!). My beautiful little angel. It was a scene right out of a fairy tale of perfect happiness... And yet I didn't feel perfectly happy. This moment of peace was preceded by the usual drama.
"Look for ways to work with your children, not what will work on them," says Aparenting. It took me a while to decode what it actually means. Just recently, it finally clicked, and everything at home changed.
The miraculous power of silence
A tiny, windowless room.
No natural light. No fresh air. No wall decorations.
A room where you are completely, absolutely alone.
Sound like the set-up for a Scandinavian noir novel?
How to make sure your kids don't "eat each other alive," so you can stop worrying
Do you still remember the excitement you felt when you were expecting your second baby? Maybe you were thinking something like: "I'm so happy our son won't grow up to be the only child. They will play together and learn they are not the center of the universe."
Why kids don't want to brush their teeth and how to change that
You know the drill. He eats the toothpaste, attempts to clean the toilet seat with the toothbrush, and then throws it under the tub. Because really. Oral hygiene? Not his thing.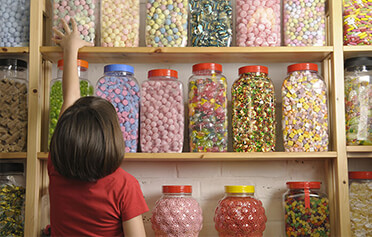 It can be done. Here are 4 steps to finding a solution where the children aren't constantly begging for snacks and the parents can relax

Do your children have an incorrigible sweet tooth? Would they have chocolate for lunch and gummy bears for dinner every day if you let them? Then maybe you know what it's like. Every visit to the grocery store involves a tug-of-war over candy in the check-out line: "Mooooom! Just one bag of Skittles pleeeeease!" You frown and tense up...
Why you should get past the "selfish parent" myth and start thinking about yourself
Just when I thought nothing could interfere with the peaceful atmosphere at home, everything went downhill.
Even the most beloved parent can get caught off guard. But it's not the end of the world. See how Bara Hamblin handled it.

One particular evening I needed to get my boys to bed by a certain time. I went into it full of optimism, feeling sure we'd be able to agree with each other without a struggle. Usually it goes off without a hitch.
An open letter to mamas of littles. The one I wish I had read before my little one was born.
The evening is shaping up perfectly for a bit of me-time. They're asleep. I take one last look at my two sleeping princesses before I switch off the nightlight. They've both kicked off their covers. Today was a real scorcher.
Children know how to get there. Keep reading to find out what toddlers and preschoolers would tell you on a discussion board if they just had the chance. :)
"Aren't you a little too old for a pacifier? Should I call you a baby?"
"If you don't take that pacifier away, you'll ruin their teeth!"
"The kids at school will make fun of you, just you wait..."
All the strangers, neighbors and extended family surely mean well. They want to help. But the parent is thinking – OUCH!
Though the only one being quiet was mama

"Good girls don't throw tantrums."
"Boys don't cry."
"Stop acting out. You're a big girl now."
"Oh, come on! It's not the end of the world."
"It's okay, you're fine."